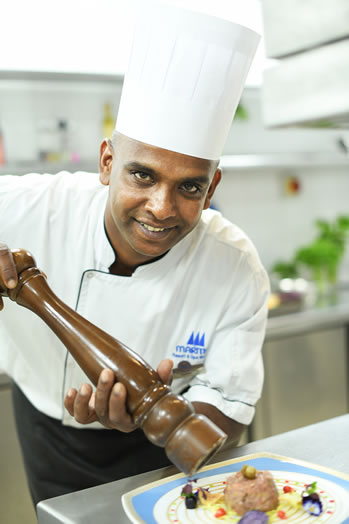 Nallan Seeven Chef of Château Mon Désir
The Mauritian Chef of Château Mon Désir, Nallan Seeven, has a wealth of culinary experience, having worked at the resort's kitchen for the last 27 years, the past 9 of which at Château Mon Désir. He holds a diploma of the 'Hotel School of Mauritius' where he learnt kitchen operations and management methods. During his career at the resort, he has worked with numerous prestigious Chefs such as Frank Mischler and Christian Rougier from France.
His passion
Nallan Seeven has also acquired additional culinary skills from numerous Michelin Star Chefs by participating actively to training and festivals. These include 3 Michelin star German Chef Harald Wohlfahrt, the Italian Michelin Star Chefs Paolo Cappuccio and Marcello Trentini and more recently the Spanish Michelin Star Chef Quim Casellas. Chef Nallan Seeven will delight you with world class gastronomy that has made Château Mon Désir the most acclaimed restaurant in Mauritius.